Posted by Warner Pet Products on 25th Jan 2021
Choosing a Leather Collar For Your Dog
If you're reading this blog article, chances are you are trying to find the right genuine leather collar out there. When it comes to choosing accessories for your dog, the collar is one of the most important. The reason being, your dog will spend much of their time wearing the collar.
So it's important you get a collar that fits correctly, is durable, and gives you the option of having a tag added to make sure your dog is safe! And since you are looking for a leather collar, you should only consider those made from reputable craftspeople. Many suppliers and businesses will label non-genuine leather as the real thing. In pictures, it can be hard to tell the difference between real leather and fake leather, but as soon as you get the product in your hand you'll be able to tell.
In this article, we'll talk about how you can tell whether the collar you want is genuine leather and a few other factors you should consider if you're looking for a premium leather collar for your dog.
How do you know you're looking at a Genuine Leather Collar?
Upon initial inspection (before you buy a product), you should look in to the brand and seller. There are many foreign companies that create imitation leather collars, which retailers then buy to sell. In the process, they pass it off as their own.
The easiest way to figure out if the seller is actually a craftsmen is to take a close look at the listing - does it say its a handmade product? If they are claiming it is handmade, chances are it is. Often times, another way to make sure you are buying directly from the craftsman is to check if they add their brand to the product.
Take a look at the pictures - can you find those same pictures on other listings for similar products? If you see that multiple sellers have the same image for a similar product, you can be pretty sure you aren't getting an authentic product.
The collars created in other countries are never actual genuine leather, so if you find out that the seller you're buying from didn't actually make the collar - you should move on. This can be bad for your pet since some of those chemicals used to make fake leather can be toxic and cause your pet to have reactions to it.
Genuine leather won't ever cause any allergies for your pet.
Here at Warner Pet Products, we create our collars from genuine USA leather. We buy the tanned leather from leather suppliers and using the tools in our workshop, we craft handmade leather collars everyday! All of the collars we sell are our own.
When you see the Warner collar on other websites (Etsy, Amazon, Ebay, etc), you can be sure it is. In addition to our website, we also sell collars on those platforms. So whether you like Amazon, Etsy, Ebay, or own own website - you can use your preferred channel to look at our products.
Other Things to Consider Besides Material
Can you Customize your Collar?
Usually, people will buy a collar to give their pet dog a nice, tasteful accessory. However, for a genuine leather collar, from a craftsmen, they will give you the option to add some customization in the form of a brass ID nameplate.
People like to list the name of their dog, and also their own contact information. Simply adding a few pieces of information can give you some piece of mind if your dog ever gets lost. By being able to add some customization to your dog's genuine leather collar, someone will be able to easily return your dog to you if they ever get lost!
We include a free, customized-to-your-liking, ID tag with all of our collars! When you order, simply tell us what information you would like on your collar, and we'll engrave it into an ID tag for you. We then attach it to your collar before we mail it to you.
How is the leather Colored?
Some imitation and fake collars are simply painted, as opposed to our genuine leather collars which are dyed leather. When you have a collar that is painted, the color will eventually run and stain your pet dog's fur. Even worse, sometimes those paints can cause allergic reactions.
When you have a collar that has been colored using a dyeing process, you get a collar that has collar that won't run. Since the color is bonded to the leather itself, you don't have to worry about it staining your pets fur if the collar gets wet.
Color is actually a major factor when it comes to genuine leather collars and imitation collars.
Does it come in the right size for your dog?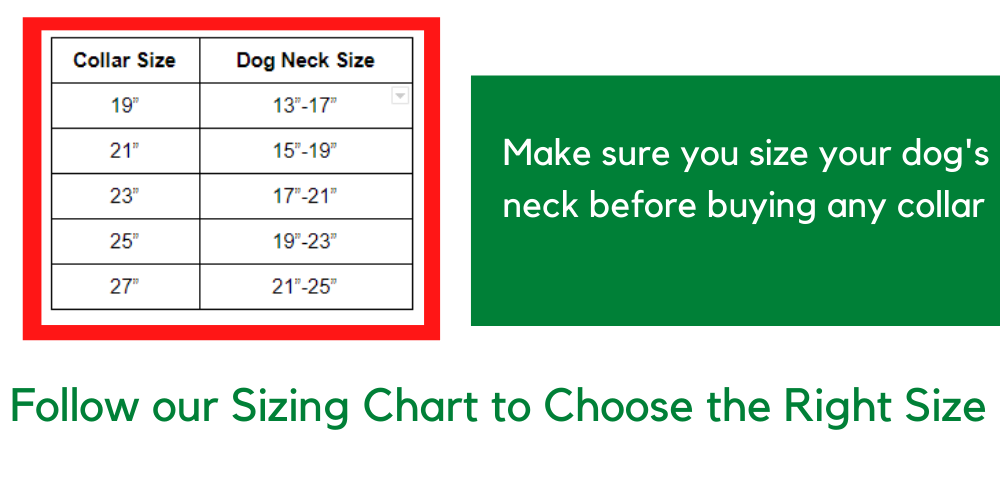 Sizing is very important when it comes to choosing any collar for your dog. It is important that the collar should fit snugly, but allow some movement so as to not choke your dog. For our collars, we include 5 different holes so you can easily adjust it as time goes on.
Maybe your dog grew a little bit and you need to use a different hole for the buckle. Or perhaps, their coat grew and the collar is a bit snug now. With our genuine Warner leather collar, you can easily loosen the buckle and re-fasten the buckle in a different hole so your dog is comfortable.
Choose Hand-Made Quality at an Affordable Price
When you are choosing a collar for your dog, it's important to choose one that your dog will find comfortable. You don't always get that with fake leather collars or other cheaply-made collars. A collar made from authentic leather, and hand-crafted doesn't always have to come at a premium price point.
Our collars are very affordable, especially when you consider that you will get a lifetime of use from them. When you consider $20 or so over the lifetime of your dog, the cost is not very significant.
You get piece of mind knowing your dog has a sturdy nameplate collar, and you will also enjoy the leather as it ages and gains the soft, pleasant feel that only true leather can aspire to!
Buy one of our collars today - we gaurantee you won't be dissappointed.