Posted by Warner Pet Products on 17th May 2021
Tan Leather Dog Collars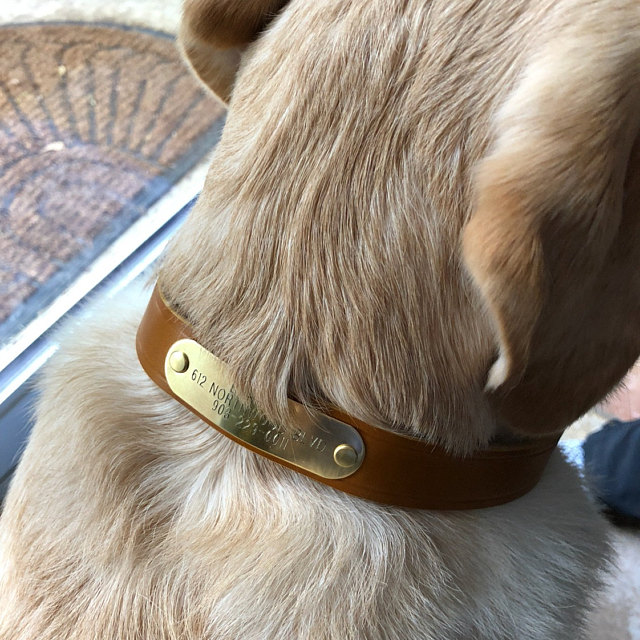 A satisfied customer (and dog) with one of our tan nameplate collars
If you're looking for a quality tan leather dog collar that will last you and your dog for years to come - look no further than our very own, handmade, leather dog collar.
This isn't simply painted leather or fake leather like what many people sell online. Our collars are made by a small team of craftsmen and craftswomen in our shop - every one of your orders is handmade for you. This means that no two collars are exactly the same. Don't get us wrong - our tan leather dog collars with nameplates (included for free) are built to an impeccable standard and are closely inspected before shipping to you. So you can be sure you are getting a finished product.
What we mean by unique is that each collar will have small markings, and little differences between one collar to the next. Even for our tan collars, the shade of the dye can vary slightly. Some are slightly darker while others are lighter. This give all of our leather collars a characteristic uniqueness. Even if you do end up meeting someone else with a Warner leather dog collar - you can bet you won't have the same exact one!
Why Tan Collars?
The tan leather we use "called Golden Tan" is a glowing shade of tan. It is a very warm color that complements ANY dog's coat very well. With our tan nameplate collars, you can easily add a fancy air of style to your dog, while ensuring you pet is comfortable at all times.
Our tan leather makes for a great dog collar since leather naturally doesn't contain any chemicals or additives that can irritate or cause allergic reactions to your dog. So even if your dog has sensitive skin, you can bet a leather collar won't trigger any reactions.
Sometimes nylon and other synthetic collar materials can cause reactions since they generally contain more chemicals than leather collars. With a Warner Tan leather collar, you and your dog don't have to worry about that!
Get a Free Nameplate ID Tag with Your Golden Tan Collar
Did you know that we include a brass nameplate ID tag to each and every Cumberland leather collar we craft for our customers? When you are ordering, you can customize your tag with up to 3 lines of text and 22 characters on each line. When you buy one of our flat tan collars, you are also getting a tag that will match it perfectly.
Our brass engraved nameplates sit flat on the collar so they don't make any noise. And you don't have to worry about the tag getting caught or lost, since it sits flat and secure against your dog's collar.
Take a look at our flat leather collars. In addition to Golden Tan, we also offer them in Rich Brown, Black, and a new collar - Burgundy! Let us know what you think today!